LOOKS GOOD ON PAPER '06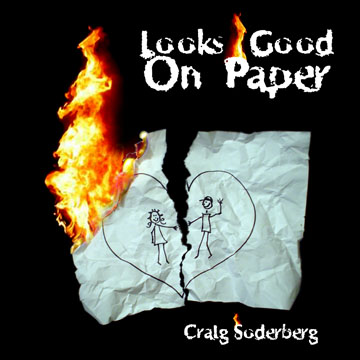 To hear clips from Craig's upcoming solo album, go to: www.craigsoderberg.com/paperclips.htm

You can check out some of Craig's music at www.myspace.com/craigsoderberg

Craig SOLO DISCOGRAPHY

TURN MY HEART ON '05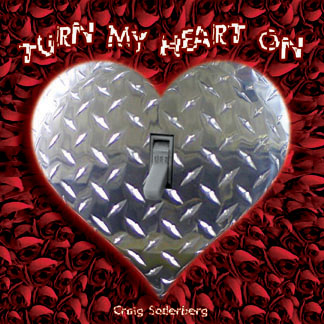 Turn My Heart On - this CD is all cover tunes of my favorite songs in my high school days.
---downloadable clips---
01 I'm Not In Love - 10CC
02 Who's Crying Now - Journey
03 I Honestly Love You - Olivia Newton John
04 Missing You - John Waite
05 Endless Love - Lionel Richie/Diana Ross
06 Just The Way You Are - Billy Joel
07 You And Me - Alice Cooper
08 Just Once - Quincy Jones/James Ingram
09 If You Don't Know Me By Now - Simply Red
10 Truly - Lionel Richie
11 Desperado - The Eagles
12 Baby Don't Get Hooked On Me - Mac Davis
13 Look What You've Done To Me - Boz Scaggs
_______________________
GOING THROUGH THE MOTIONS 2000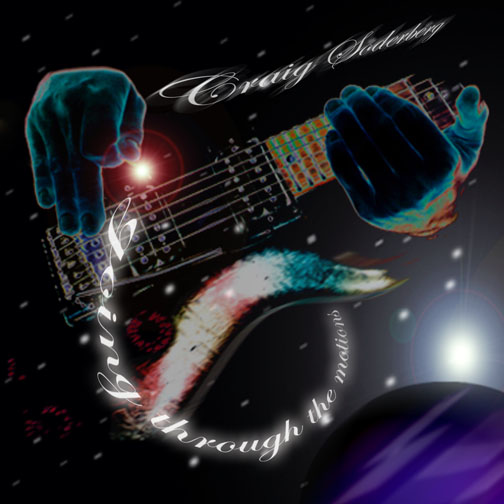 Going Through The Motions - this CD is a full-length CD with more focus on the guitar, yet retaining the feel of "Peaces." "Going Through The Motions" also features the songwriting and vocals of Mike Girth. I try to describe this disc as Jeff Beck meets Enigma...atmospheric and driving with plenty of guitar. Check out the opening track & a couple samples on http://www.mp3.com/craigsoderberg
_______________________
WACKED! '96

Wacked! - a full-length mostly guitar-oriented collection of tunes with special guest musicians. This is my most bizarre collection of "going for it" (showing off) guitar material. Featuring: "Mozart Plays Guitar" & the original version of "If I Only Had A Dame."
_______________________
PEACES '96

Peaces - a full-length mostly instrumental keyboard & acoustic guitar-oriented CD. The music never stops until the CD ends. 74 minutes. Very atmospheric...great for sex, sleeping, or both.
_______________________
LIFELINE '93
Lifeline - a double CD over 100 minutes. Another mostly instrumental keyboard & acoustic guitar-oriented CD which also never stops until the CD ends. Also great for sex, sleeping, or both.

Craig's first guitar recital at age 8, and first piano recital at age 9.
(click photos to enlarge)



CRAIG'S MUSIC REVIEWS...updated June 9th, 2006...over 4 years have gone by since my last update, but I'll try to list what I've enjoyed over those years...
If anyone cares to hear what I have to say about the new music that I listen to as I drive the endless roads of the mid-west...here goes...some of the titles may be quite wrong, as I don't study the artwork as I'm driving, I just listen...
BEN FOLDS Songs For Silverman ... basically, Ben is my favorite songwriter, so anything he does anymore is awesome. The DVD with the orchestra in Australia is wonderful.
CAKE Pressure Chief... finally, another great Cake CD (didn't care much for Comfort Eagle)
DAVID GRAY... White Ladder-classic, New Day At Midnight-pretty good, Life In Slow Motion-better than pretty good.
EDGEWATER We're Not Robots... great new CD from these guys, much cooler than their last CD. Great songs with interesting things going on, great vocals, great hooks...really heavy without being one of those "heavy" bands. Check them out on myspace. Yes, I was in the band "Shockhead" with Ricky back when -itis was forming.
TOOL 10,000 Days... I haven't listened to it enough yet, but I already enjoy it 10 times as much as "lateralus."
EMO bands... perhaps it's a sign of getting old, but I can't tell any of them apart nowadays. Nice pants & hairdo's, though.
FREAK KITCHEN... a Swedish band with an awesome guitarist...definitely worth checking out...melodic & math-rockish.
FREAK GUITAR... the name of the project that the guitarist of Freak Kitchen uses for solo CDs... just look up Mattias Eklundh.
SLIPKNOT III... this CD is awesome. They finally wrote some cool songs like their first CD instead of the crap they put on their "IOWA" CD.
LAMB OF GOD Ashes of the Wake... this is my latest CD that I crank up as loud as I can when I wanna feel some power. The CD sounds awesome at very high levels. If you can handle strange metal vocal inflections & affectations, check this one out.
JOE SATRIANI Engines of Creation... I'm not as big a Satch fan as most people think I am, but this CD is awesome. A drum machine is used as an enhancement, rather trying to make it sound like a real drum set and not succeeding. This is a great CD to lay around to.
CLUTCH Blast Tyrant... kick ass jammin' music, great drummer, cool riffs
CLUTCH Hives & Robots or whatever... also great
JIMMY EAT WORLD Futures... much better than the teenage-aimed "Bleed American" (or self-titled if you got it after 9/11)
BEN FOLDS Rockin' the Suburbs ... this CD is great, especially if you like sarcasm & quirkiness mixed with goosebumps, tears, & piano. This album, unlike the Ben Folds Five albums, is listenable from front to end. It's been staying in the CD player quite a bit lately.
RADIOHEAD Kid A ... hmmmm, I don't get it.
JIMMY EAT WORLD Clarity ... this CD is awesome, if you like pop music with several vocalists, 2 guitars and a great melodic sound, such as Toad the Wet Sprocket. It is my new favorite CD.
JIMMY EAT WORLD Bleed American ... this is the follow-up to Clarity, and being a big fan of the Clarity album, this album is also great. Although, I could understand if this CD is your introduction to J.E.W., you might think it's too poppy and bubblegummy...but it's still great.
TOOL Aenima... perhaps one of the best albums of our time. This album continues to get played no matter how old it becomes. There always seems to be something new going on.
MR. BUNGLE (a project featuring Mike Patton of Faith No More) recommended for lovers of bizarre music only. The first album (self-titled) is very weird and musical...the second album (disco volante) is very weird and non-musical... the third album (California) is very weird and surf-sounding. I prefer #2, then #1, and the third just went for sale on eBay.
EVERCLEAR Songs from an American Movie Part I, Learning How To Smile...Yes, it is very typical Everclear sounds & phrasing & all that, but it is very enjoyable from beginning to end. Yes, it's the same subject matter as before, but for some reason, I think he does a much better job than he's ever done. If he set out to make the perfect Everclear album, this is it. He even does a cover of "Brown Eyed Girl," and for the first time in my life, I actually enjoy that song. Special note..."Songs from an American Movie Part II, A Good Time For A Bad Attitude" is terrible.
KING'S X Welcome Home, Mr. Bulbous ...this album is great. King's X has all the creative freedom they could ever want, and they utilize it well on this one. "She's Gone Away" is my favorite tune from this album. Berg & I got a chance to go see them "live" in St. Louis in August 2000 (at Mississippi Nights), and they were awesome, as expected when you pack 15 years worth of material into a 2-hour show.
THE NIXONS The Latest Thing ...this is the Nixons' best album so far, but it is unfortunately on a much smaller label than their previous MCA releases. One would hope that an independent label would eat this album up and push the heck out of it, but so far, this is not the case. This album has a great flow from front to back, packed with great hit songs. My favorite songs on this album are "Drama Queen," and "Blackout."
CHRIS CORNELL Euphoria Morning ...this is the solo album of the singer of Soundgarden. I love this album. It is very diverse, and complete with the things you've come to expect from Chris. My description of the album and sound would be, "all the great stuff from Soundgarden, minus the irritating guitar, minus the time changes, and minus the high-screaming vocals."
MATCHBOX TWENTY Mad Season ...well, I was quite disappointed in this album after hearing their interviews of saying how they've really out-done themselves or something on this one. I remember them saying something about really finding their band vibe. Maybe, if they're talking about like a 30-piece band with full horn sections and string sections. Last time I checked, Matchbox 20 is a 2-guitar band (like Iron Maiden)...they don't even have a keyboard player officially in the band. Anyway, "disappointed" doesn't mean that I don't like the album, I just was expecting a little more. I love all the mellow stuff on the album, that's when Santana's singer shines best. But, when they try to "rock" with trumpets & stuff, I lose interest fast. My favorite songs on this album are "Leave," & "If You're Gone."
DON HENLEY Inside Job ...it took Don 11 years to come up with this crap. Maybe I need to listen to it a few more times, but I don't have any incentive after 1 play through. Anybody wanna buy this from me? Make me an offer. I love the Eagles, and there are at least 3 awesome songs on each of Don's other solo albums, but not this time...bummer.
SLIPKNOT ...after you sit through that many pop-rock albums, now it's time to wake up...this album is great, very, very aggressive, and full of hooks...yeah, they may be f-word hooks, but they're still hooks. There's actually some singing once in a while, too. Although I can only handle one spin of this album in it's entirety at a time, it definitely rocks.
DEFTONES White Pony ... In the midst of the "everything heavy, everything angry, everything B-tuned, A-tuned, whatever-tuned, so-low-tuned, you-can't-even-hear-it-tuned" movement, this band provides some clarity amongst its chaotic sound. The drummer sets a mood and a solid foundation, and the singer has a very eeery sound, and a great voice when he chooses to use it. Maynard from TOOL sings a song on here, too.
DREAM THEATER Metropolis pt. II ...I used to listen to this album alot when it first came out. Usually, I don't care much for tecnically correct bands, but this album actually held itself together for me and kept me interested, not only from a technique standpoint, but there are enjoyable songs on it. I really didn't care much for the "concept album" concept, but I still love this album. This is another good front-to-back album for me. A couple albums like this for me, and I'm already at the next gas station filling up, waiting for Mark to wake up just before we're about to leave and decide that he urgently has to take a pee.
email Craig at: